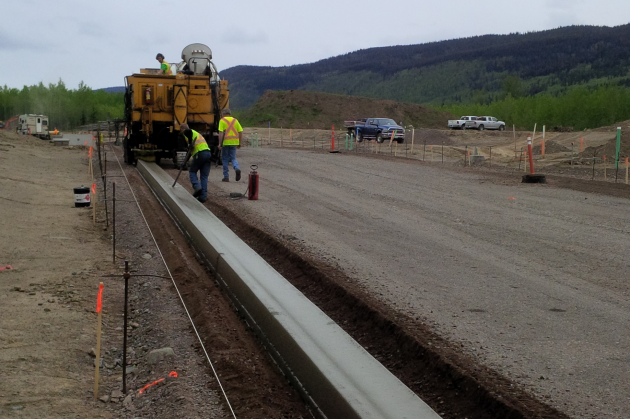 Our knowledge of the Equipment, Software and Construction Industry maximize efficiency of the survey and layout.
We are experienced construction surveyors with a reputation for detailed accuracy. Our crews perform construction stake-out and as-built surveys on a variety of projects ranging from simple projects to highly complicated construction.
Efficient and Accurate Construction Surveys
Our surveyors received their training working in the construction industry - not just the classroom. They understand construction plans and specifications and are supported by experienced, professional management. They know how the contractors work and ensure that the data is marked in the field clearly and accurately so that the job gets done quickly and economically.
On your next project, reduce your costs by using our construction surveyors on an as-needed basis versus the cost of your in-house, full-time survey staff.
Experienced High Tech
Our survey crews use the most up-to-date technology to ensure that your job is completed quickly, accurately and cost effectively. We use Real Time Kinematic (RTK) GPS Systems, Fully Robotic Total Stations and millimeter accuracy Engineering Grade Levels with TDS Data Collectors using Industry Standard Survey Pro software. All of our information is gathered and analyzed using the latest AutoCAD Civil 3D software. Many survey companies have high-tech equipment but few have the experienced operators that know how to use the equipment to its capacity.
Our clients include every type of constructor from road builders to subdivision developers in Northern BC.
Construction Layout
Topographic Surveys
Engineering Surveys
Road Building Layout
Volumetric Surveys
Stockpile Surveys
As-Built Surveys
Powerline Surveys
Mining Surveys
Location Surveys
Hydro-Electric Surveys
Call us at 250‐847‐6110 to learn more.